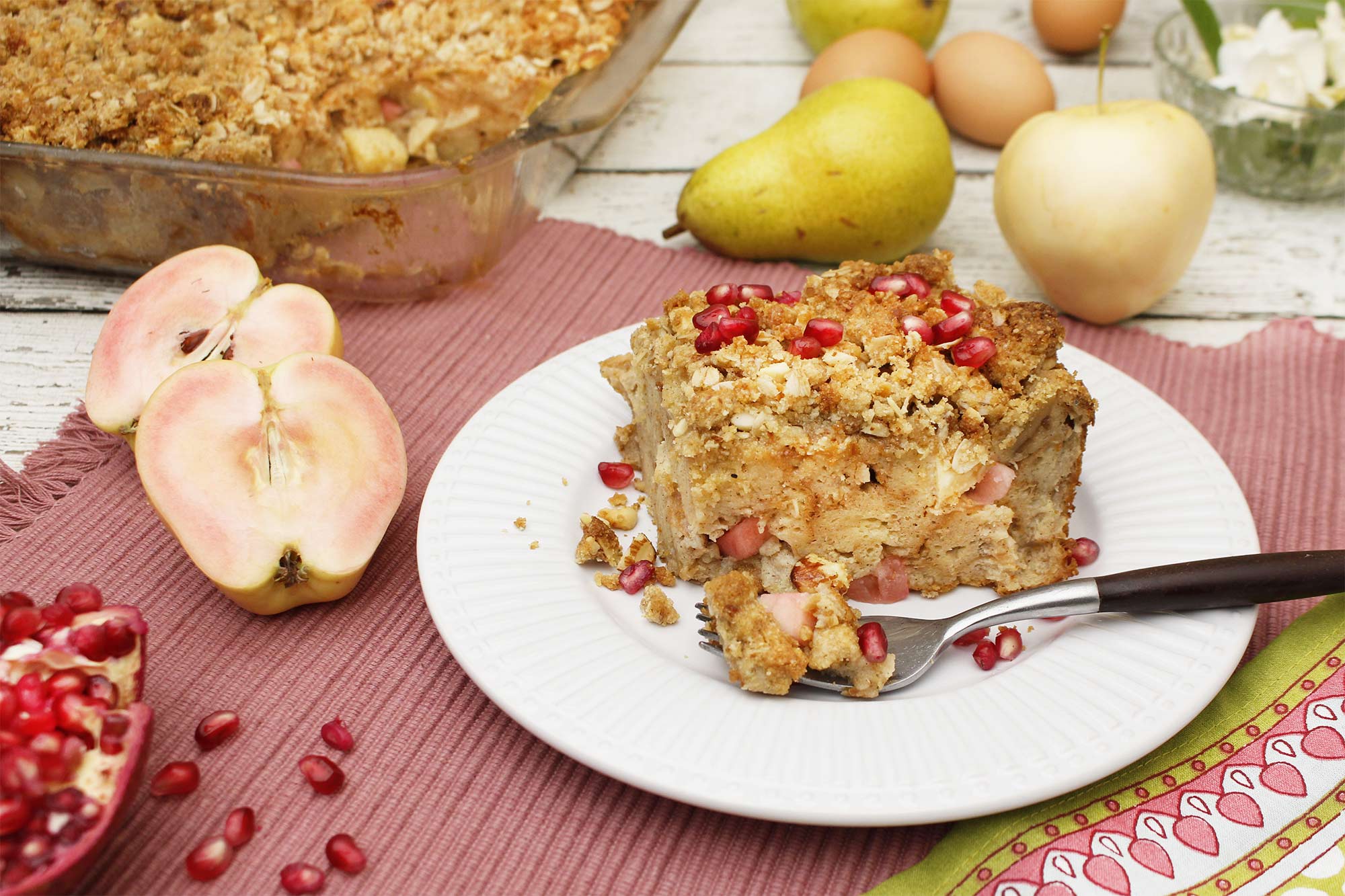 Sweet, tender and filled with apples and pears, this bread pudding is a must-make dessert! (Feel free to swap Granny Smith apples for the Pink Pearls if you don't have them).
1 large loaf bread, cubed and left out overnight to stale (we used egg bread)
6 pears, peeled and cubed
1 lemon, zested and juiced
6 eggs
2 1/2 cups cream or half and half
1/2 cup sugar
2 teaspoon cinnamon
1/2 teaspoon nutmeg
1/2 teaspoon salt
For the Crunch Topping
¾ cup brown sugar
½ cup almond meal or almond flour
½ cup almonds, chopped
½ cup rolled oats
½ cup graham cracker crumbs
¼ cup flour
1 teaspoon sea salt
2 sticks butter, melted
½ cup (about ½ pomegranate) pomegranate seeds (optional)
Cut the bread into ½ inch – 1 inch cubes. Lay them in a single layer on a rimmed baking dish. Let them sit for at least 4 hours or overnight to stale.
Preheat the oven to 350 degrees F. Grease a 9 x 13 casserole dish with butter on the bottom and sides. Put the apple and pear cubes in a bowl with water and the juice from the lemon. (Save the zest for the topping). This will keep them from browning.
In a medium bowl, whisk together the eggs, cream or half & half, sugar, cinnamon, nutmeg and sea salt until well combined.
Remove the apples and pears from the water and toss them in a large bowl with the stale bread. Pour over the egg/cream mixture and toss with your hands until the bread is evenly coated. Pour the whole mixture into the prepared casserole dish and spread it evenly in the dish. Let it sit for about 10-15 minutes to let the bread soak up all of the liquid.
Meanwhile, in a medium bowl, toss all the Crunchy Nut Topping ingredients together except the butter until well combined. Pour the melted butter over the top and toss until the mixture comes together when squeezed with your hands. (You may need to add a little more butter if it is too dry). Set aside.
Bake the bread pudding for 10 minutes. Remove it from the oven and sprinkle the Crunchy Nut Topping over the top and put it back into the oven and continue baking until the bread pudding fluffs up and the crunchy topping is golden brown, about another 20-25 minutes. Allow to cool for a few minutes and sprinkle with pomegranate seeds, if desired. Serve and enjoy!